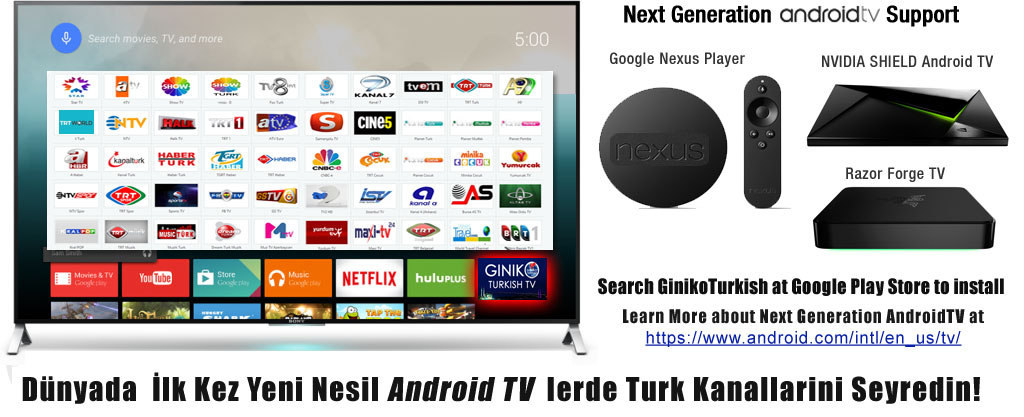 Supported Android TVs: Google Nexus Player, NVIDIA SHIELD Android TV, LGE TV ST940I-UP & LAP250U,
RAZER Forge TV, SHARP AQUOS UH30, SONY BRAVIA 4K 2015, TPVISION TV4K UHD, Freebox Mini 4K.
Learn More About Next Generation AndroidTVs, Click Here.





---
Please follow these easy steps to start watching Giniko Turkish
Android IPTV, Tablets, Mobile Devices!



Recommended Android Phones,Tablets, IPTV Devices: Android OS 3.2 and up only.



1. Go to the Google Play Store
on your Android smartphone.

2. Find the Search field and
type "Giniko Turkish TV".

3. Click on the found result.

---


4. Click the Install button.

5. Click on the Accept button and Giniko
Turkish TV will be downloaded and installed.

6. Go all the way back to your App drawer.
Find the Giniko Turkish TV icon and open.

---


7. You will be asked to enter your Giniko
Turkish TV account. Feel free to check the
"Remember Me" box and click the
Login button.

8. Now sit back, relax and choose your
favorite Giniko Turkish TV channels and
programs.

9. Enjoy Watching with DVR feature
and never miss any problem!!!
---
Buy Android IPTV Devices from Amazon Stores.
Android IPTV satin alabileceginiz Amazon siteleri.