Selected Plan:

Turkish TV - 1 Month Plan
$8.95
Coupon Code:
+100 den fazla kanalı kesintisiz canlı ve geriye dönük olarak dizi, haber, spor programı kaçirmadan büyük ekran TV'nizden yada telefon / tablet' den seyredebilirsiniz.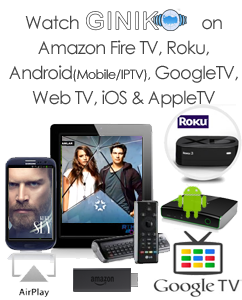 Giniko Turkish Üyesi Olmak
İçin Bir Kaç Neden:

- 100 den fazla Popülar Türk TV kanallarını hem canlı hem de geriye dönük olarak kaçırdığınız haber programlarını, dizileri, spor karşılaşmalarını istediğiniz zaman seyredin.
- Dünyada Turk Kanallarini Amazon Fire TV, Roku ve Yeni Nesil AndroidTV'ler de sadece Giniko Turkish TV uygulamasini indirip seyredebilirsiniz.
- Android Mobile/IPTV ve GoogleTV de. Bitmedi bilgisayarinizda ve iPhone/iPad/Apple TV'inizde.
- Yuksek kalitede seyrebileceginiz son teknoloji network alt yapimiz.
---
Note to Roku Customers:
Roku uygulamamizi Amerika, Kanada ve dunyanin diger her yerinden Roku Marketten yukleyebilirsiniz. Yapmaniz tek gereken "Giniko Turkish" Search edip , uygulamamizi yuklemek.
Our Roku apps is now available in USA and Canada as well as all around the world at Roku app store.
---